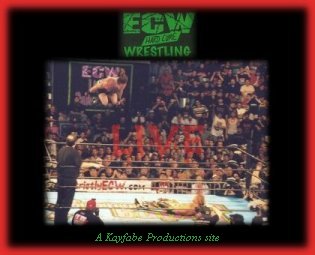 *** UPDATED: February 1, 2000 ***
---
Welcome to "ECW Hardcore Live." You home for exclusive photographs from Extreme Championship Wrestling live events. This site does not contain video captures from TV shows or PPVs, nor does it contain pictures taken from ECW.com or any web other site. All photographs found on this site are 100% original that have been taken and scanned exclusivly for this site.

"ECW Hardcore Live" is run in conjunction with it's sister site "ECW ALL LIVE!"
***All photographs contained herein are property of "ECW Hardcore Live" and Kayfabe Productions©. If you would like to use any of the photos found on this site in anyway (including but not limited to: using them on other web sites and re-posting them in newsgroups), please be sure to gain the expressed written consent of the owner of this site first.
***The ECW logos and names used on this page are property Extreme Championship Wrestling
***** "ECW Hardcore Live" is not affiliated with Extreme Championship Wrestling *****
---

ECW Hardcore Live
Information Center

Total Pictures: 1,050
Shows Indexed: 14
Names Indexed: 58

**What's Updated**

EVERYTHING

**Coming Soon**

1/15/00 Danbury, CT
1/16/00 Philadelphia
---
Contact "ECW Hardcore Live's" Webmaster:
ECWHardcoreLive@aol.com
ECW Hardcore Live has had
hits Since May 3, 1999